We at Aspire® Family Dental have built the next generation dental office with BOTH modern and green technology. We aim to help improve our community. Not only are we using the latest in dental technology, we are helping our environment and our community at the same time!
Fighting for our patients starts right here in our Front Office. We use our many years of experience to get the most financial benefit for our patients from their dental Insurance Companies. Also, we help our patients with their financial needs to make the dental treatment as painless as possible. Payment plans with Care Credit can help patients have their dental treatments with no interest, lower monthly payments. Call and ask for details.
Our Hygiene program is extremely involved. Our computer program is so comprehensive that it can track virtually any changes in your oral health. We track the condition of your gums since this is one of the areas that can potentially lead to heart attacks, strokes, low birth weight babies and so much more. We ONLY use digital x-rays since the pictures are amazingly clear and can lower your x-ray exposure as much as 90% compared to the older technology.
As you can see, we really practice dentistry to the highest standard. Sterilization and the prevention of the spread of disease is high up on our list. Even our water is extremely pure since we filter it through our reverse osmosis system just for you! We only use the best tooth colored aesthetic and other dental materials when it comes to our patients. Join the hundreds of new patients that call Aspire Family Dental their dental home every month!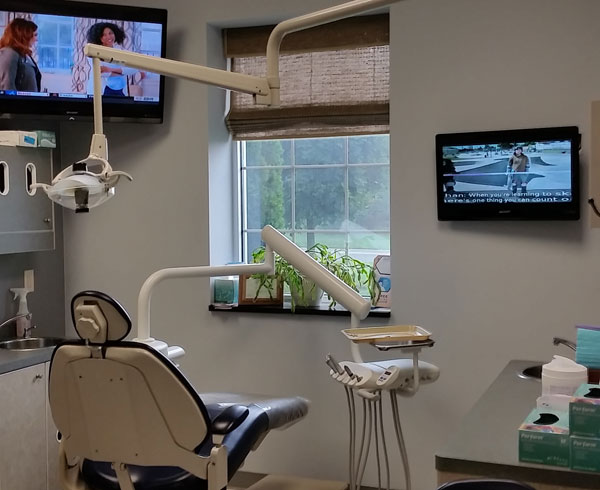 Typical Treatment room with personal digital TV's for all Patients!
We in using only the most modern beneficial dental materials and equipment for the patients at Aspire Family Dental.
Monday 9:00AM - 7:00PM
Tuesday 8:00AM - 5:00PM
Wednesday 8:00AM - 5:00PM
Thursday 8:00AM - 5:00PM
Friday 8:00AM - 2:00PM
*Office Hours may change
554 East Robinson St.
North Tonawanda, NY 14120
(716) 695-1137